Event Information
Mad Scientist Book Club - for kids going into Kindergarten- (held in the picture book section)
Date & Time: July 7, 2014 5:00 pm
Not reading independently yet? Not a problem! When you register for this program, you will receive an advanced copy of the book to take home and read together. What better way to show your child that reading is fun and that anytime is a good time to curl up with a good book.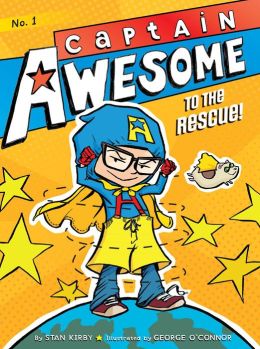 Captain Awesome to the Rescue! by Stan Kirby
The town of Sunnyview got a little bit safer when 8-year-old Eugene McGillicudy moved in. Just like his comic-book mentor, Super Dude, Eugene, aka Captain Awesome, is on a one-man mission is to save the world from super villains. Just as Eugene suspected, plenty of new supervillains await him at Sunnyview Elementary. Are Meredith Mooney and the mind-reading Ms. Beasley secretly working together to try and force Eugene to reveal his secret identity? Will Principal Brick Foot succeed in throwing Captain Awesome into the "Dungeon of Detention?" Fortunately, Eugene isn't forced to go it alone. Charlie Thomas Jones, fellow comic-book lover and Super Dude fan, stands ready and willing to help. When the class hamster goes missing, Captain Awesome must don his cape and, with the help of his new best friend, ride to the rescue. 
Registration is not required but highly recommended. Register online below, by phone at 203-775-6241 or in person at the Checkout Desk. Please pick up the book from the library prior to Monday, July 7 so that you can discuss it.